You finally come across another clearing in the Jungle. It's empty, save for the brightly colored flowers that dot the landscape. A rustling sound catches your attention, it's a worn out piece of paper tacked to one of the giant trees.


"This area of the Jungle is reserved for a Chrysalis horse. It is hoped that here will be found suitable enough for one to be fostered. Please to not disturb, trample, or molest the flowers. All fruits in the area are edible."


You wonder what a Chyrsalis horse is when you come across a multi-colored chyrsalis hanging from a tree branch. It is small and sways delicately in the wind.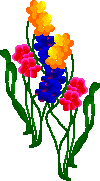 After admiring the chyrsalis you turn your attention to your surroundings. Sure enough, the vines overhead have fruit hanging from them. Snagging a plump blue-skinned one, you take a small bite. Its crisp texture is matched by the tangy sweetness of its flesh.


From here you can go to ChrysalisHorses....




All the graphics on this page was made and is copyrighted to me. The background set is not available for public use.