Graceful vines hang over head with sweet smelling blossoms. It's quiet here as well, only the whisperings of the wind. Out of the corner of your eye you see a golden flash. It slows down and stops in front of you.
"Hello traveler. My name is Golden. I am a female Leagus out of Shalnir and Colien. I came here after being abandoned. It is good being here now. Have you met Karma yet? She is a female Leagus like myself. Karma and myself have joined a Pri'erd, The Clan of the Golden Dawn to be exact. Here comes Karma now."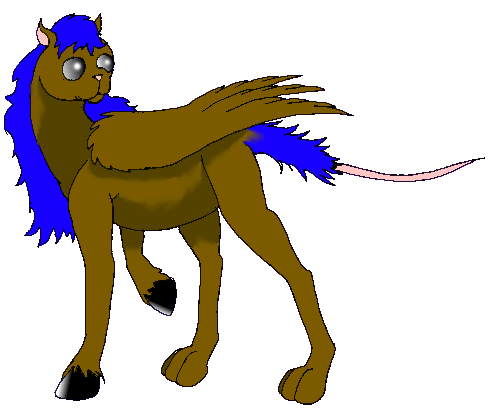 A lovely blue-maned Leagus enters your view. A wary look echoes in her large eyes, and you follow her gaze to her tail. There the fur is more than halfway burned off. She turns to speak to you in a soft, yet proud voice.
"I am Karma visitor. I was rescued out of the Burning Jungle, and as you can see not totally uninjured. But I was lucky, I had survived. Sadly, I do not even remember who my parents are. But I am safe here. There is no chance of such a devestation occuring in these protected lands. As Golden said, we are members of The Golden Dawn. The other members are Martin, Firewind, and Stratavera. Now excuse me, Golden has promised to show me around the Jungle and I must not keep her waiting. Good journey visitor."